Careers @ Erudite Guru Labs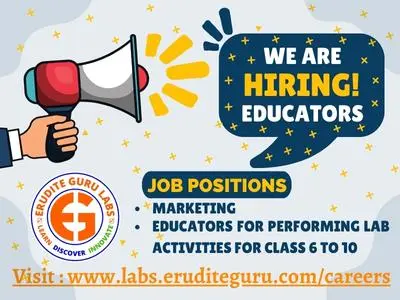 We invite dedicated individuals with a strong background in science to join our team at Erudite Guru Labs. As a Lab Activities Coordinator, you will have the opportunity to conduct engaging experiments and hands-on learning experiences for students in grades 6 to 10. At Erudite Guru Labs, we are committed to fostering a passion for science and inspiring the next generation of scientists. If you are enthusiastic about science education, possess excellent communication skills, and are eager to work with a dynamic team, we encourage you to apply and be part of our mission to make science education exciting and accessible. Join us in creating a transformative learning experience for students and shaping the future of science education.
Currently we are hiring people with to work with us either part time or full time.
This oppurtunity can be utilised by Students, Teachers, Working Professionals with science background having completed Graduation, Post-graduation or Engineering.
Intrested people can fill the form